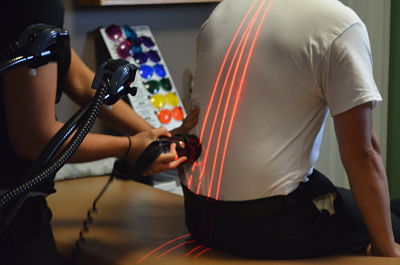 LINCOLN CHIROPRACTOR COLD LASER
There's a new weapon in the arsenal for treating pain and swelling related to carpal tunnel syndrome, neck trauma and other injuries caused by sports, work, car accidents and falls, its the cold laser.
Called low-level laser treatment, or LLLT, this cold laser machine looks like the handheld Tricorder used in sick bay on the Starship Enterprise.  However, the Food and Drug Administration recently approved its use for relieving chronic pain in the neck and shoulder.
In studies,  the device increased muscle strength and range of motion and decreased inflammation.
Our office has cold level that we use on all our patients.
Patients may come in for cold laser once or twice a week for treatment.
We are one of the only chiropractors in our area to use laser in our practice.
A  survey of our patients found that they found relief from pain and stiffness after a treatment.  Even our stroke patients saw significant improvement from the treatments.
One of our stroke patients lost complete control of his left side of his body, which caused him significant problems with balance.  After just a few treatments he saw a significant improvement
Lincoln Nebraska resident Roger M. suffered a stroke a few years back and had balance issues because when he suffered the stroke his entire left side was paralyzed.  With chiropactic care, cold laser therapy and physical therapy he was able to regain total function on his left side.
Some patients nicknamed the cold laser the "magic wand".  And for some patients it has been.  Sometimes patients hurt to much or are scared to get adjusted, so we are able to use the cold laser on them and they report significant pain relief from it.
Sue a retired nurse also has periodic pain in her right foot due to recently injuries.  The laser has helped her significantly decrease her pain when nothing else would.
If you want to try out the cold laser call out office at 402-488-0288.