What is a Myovision Scan?
The ScanVision utilizes technology similar to the EKG. Instead of measuring heart muscle patters, we measure the muscular compensation about the spine. The ScanVision Scanning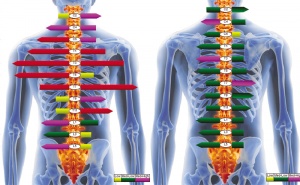 sEMG exam is an electronic form of palpation, providing an objective means of quantifying an important measure of spinal health. The exam takes only a couple of minutes.
Is it painful?
Not at all. It is non-invasive and does not cause pain or irritation. This makes it safe for children, pregnant women and seniors. It simply requires the placement of small electrodes against the skin.
Why is muscle activity important?
Muscles compensate for pain and/or spinal subluxation by tensing up to brace and guard. The MyoVision objectively documents this pattern of muscular guarding, establishing need for care and tracking progress over time.